Life can be a bit of a crapshoot. For example, one never knows when a night on the town will bring you face-to-face with magnificent music.

SONIA DADA:
They played for 115 minutes and the crowd was panting for more. That just goes to show you what can happen when a great group sings terrific tunes. This delightful situation went beyond mere sonic pleasure and became almost cosmic because Sonia Dada has tapped into the primal force of life. Performing at the peak of perfection, they dispense healing sounds as if the group was some sort of interstellar pharmacologist.
BOOK SERIAL: Ambient Deviant Speedmetal Polka Chapter 20.
This is an excerpt from the forthcoming book, "Ambient Deviant Speedmetal Polka: Rock Writing, 1990s to 2010s, Los Angeles" by John Scott G.
Read More
.
Their three singers are each positively delicious. Michael Scott takes the lion's share of the leads, but there are sterling turns from Paris Delane and Shawn Christopher. Some of us would give anything to be able to sound like any one of them. And when they combine for three-part harmonies, the effect makes your heart leap up into your throat. Working together, vocalists Scott, Delane, and Christopher are the aural equivalent of the planets aligning.
As a band, Sonia Dada has created a new form of R&B, one in which the R stands for rhythm as well as revival meeting, and the B stands for blues but also for beauty. Time and again their numbers started as soul tunes before transforming into funkified invocations of good spirits.
Larry Beers and Winston Damen are outstanding on percussion, the horn players (Joe Sublett, Darrell Leonard, and Nick Lane) pack a potent punch, and Erik Scott just kills on bass. They also have two wizards of guitar, Dan Pritzker and Phil Miller. The ensemble effect is the primary attraction, although let's face it, Delane's ability to sing both baritone and tenor parts deserves special mention.
Allow me to humbly suggest that the U.S. government consider exporting this stuff; our standing the world community would surely rise if this occurred. You probably don't need to be lectured about how getting their recordings or attending one of their concerts would be good for you, although that surely would be the case. Look, the adjective that properly applies to Sonia Dada is simply this: magnificent.
JIVE-N-DIRECT:
Battling to overcome a muddy sound mix at Luna Park, Jive-n-Direct eventually emerged victorious. Their blending of funk with jazz is a brave choice in a marketplace dedicated to simplistic music, and while they only got the crowd to dance on the numbers with an obvious 4/4 beat, they are consistently rewarding in their impassioned delivery of excellent original material.
Lead vocalist Damon Castillo is a commanding performer and the band interacts in a way that had musicians in the audience nodding their heads in appreciation. Best of all, several sax solos by Larry Kim had lots of observers grooving in joyous appreciation. Jive-n-Direct is a powerhouse group with terrific artistic vision.
LENNA: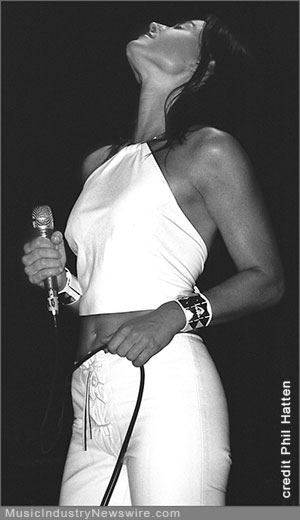 Thank heavens for singer-songwriters like Lenna who leave the vocal tricks behind. She shunned those overused sudden octave shifts that have no purpose other than to call attention to the vocalist. She avoided the mind-numbing vibrato that sometimes makes you think you wandered into a bird-calling contest. And she eschews melisma. (Meaning she don't be puttin' in lotsa extra notes on a single syllable; memo to other female singers: that technique got old back in Ella Fitzgerald's day.)
Delivering her creations with simple honesty and compassionate conviction, Lenna was so captivating that it felt like we were in a concert hall rather than in the packed space of The Gig, which is normally a very boisterous nightspot. Backed by superb session players, Lenna treated her many newfound admirers to tales of modern living that featured excellent word-play and poignant emotion. She was a delightful surprise.
SUSAN SHELLER:
Entering the stick-to-the-floor ambience of the Tumbleweed Tavern (not its real name) isn't recommended under ordinary circumstances but sometimes they feature excellent performers. And such was the case when Susan Sheller & Vibe Tribe roared into that club's normally sleepy village on the outskirts of Los Angeles.
First of all, Susan Sheller has a voice that could make a one-note sound check seem soulful. When she wraps her vocal cords around a strong melody, the room becomes transformed. Smiles break out. Couples dance. Drinks get ordered. Hips twitch. Temperatures rise. More drinks get ordered. (You'd think that clubs could afford to hire a cleaning crew with the profit from Sheller alone.)
It also doesn't hurt that Vibe Tribe is positively phenomenal at pumping out a big, bold sound. Bob Gross is a groove-meister on bass, always punching things exactly when needed. Scott Babcock blends taste with power on drums. Stevie Gurr is a rhythmic monster on guitar, wringing a stunning palette of tones from his gear. He raised the eyebrows of a few guitarists in the audience with one solo that took place almost entirely on the E, A, and D strings below the 4th fret. Arlan Schierbaum is as supple, funky, and fiery as humanly possible on an assortment of keyboards, including the mighty B-3 with the Leslie rotary speaker cabinet. I have heard Schierbaum play with three different groups and marveled at his wonderful touch every time on every song.
Here's a salute to Sheller for her vocal chops, her wonderful taste in musicians, and her excellent songwriting (tunes such as "Absinthe & Tangerine," "Chains Where Wings Used to Be," "Memphis Radio," and "On the Way to Here" are deserving of wider dissemination.)
Video of Sonia Dada singing "Lover"


Watch this video on YouTube.
• To read more from the book serial, "Ambient Deviant Speedmetal Polka," please go here: https://musewire.com/gaga/ambient-deviant-speedmetal-polka/ .
* * *
This original article is Copr. © 2013 by John Scott G, and originally published on MusicIndustryNewswireCOM, before making its permanent home here on Ga-Ga.com – all commercial and reprint rights reserved. Photo of Lenna by and © Phil Hatten – used by permission.
* * *
The post Awesome Artistry Flies Under the Fame Radar appeared first on MuseWire.